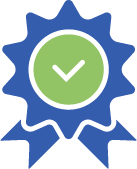 IMPROVED QUALITY OF LIFE
Patients in the INNOVATE study using a digital home-based titration tool experienced improved psychosocial outcomes with reductions in emotional burden and regimen distress (on the diabetes distress score), as well as no increase in the fear of hypoglycemia (on the hypoglycemia fear score).5

REDUCED HEALTH CARE PROFESSIONAL BURDEN
The INNOVATE Study showed that patients adjusting their insulin dose with a home-based digital titration tool visited their Health Care Professional less frequently compared with those receiving Enhanced Usual Therapy (EUT), thus reducing the demand on physician time and resources.6
2019 as per https://journals.sagepub.com/doi/full/10.1177/1932296818821706
Bajaj H, et al. Diabetes Technol Ther. 2016;18:610–615.
Khunti K, et al. Diabetes Obes Metab 2013;15:690−700.
Cantú Santos O, et al. Real world effectiveness of digital tool supported.
Modi K, et al. Diabetes 2019 ;68(Suppl 1). DOI:10.2337/db19-138-LB.
Cantú Santos O, et al. Effectiveness of My Dose Coach in achieving Self-Measured Plasma Glucose goal and improving Well Being index in patients with type 2 diabetes in Mexico. Abstract 466. Presented at the Advanced Technologies &Treatments for Diabetes Conference. February 19–22, 2020. Madrid, Spain.
MAT-KW-2100248/v1/Jul 2021