Science in Dyslipidaemia Disease Management
Get a 360º view and stay up-to-date on dyslipidaemia disease with content selected for you.
Prescribing Information can be found through the links in the Product Cards at the bottom of the page.
Resources
Resources created to help you in your clinical practice and improve the quality of life of your patients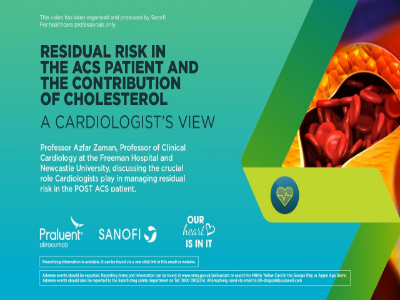 Residual risk in the ACS patient and the contribution of cholesterol
Why use Praluent® (alirocumab) in patients with ACS?
Effect of Alirocumab on Mortality After Acute Coronary Syndromes: An Analysis of the ODYSSEY OUTCOMES - Randomised Clinical Trial.
†With only nominal statistical significance by hierarchical testing (HR 0.85, 95% CI 0.73, 0.98)
Effect of Alirocumab on Stroke in ODYSSEY OUTCOMES.
MAT-XU-2201545 (v3.0)
Date of Preparation: February 2023
MAT-XU-2204598 (v2.0)
Date of Preparation: March 2023