Awareness of venous thromboembolism among patients with cancer: Preliminary findings from a global initiative for World Thrombosis Day
This ongoing first online CAT survey involving 749 cancer patients with diverse ethnic, cultural, and geographical backgrounds highlighted important patient knowledge gaps at a global scale: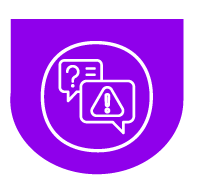 UNAWARE OF CAT RISK
• Almost 2/3 participants were not aware of the thrombotic risk associated with cancer and anti-cancer therapies (61.8%), with a large proportion (26%) made aware at the time of VTE diagnosis only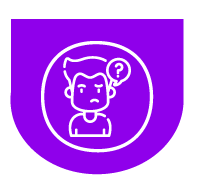 NO EDUCATION ON VTE SYMPTOMS
• >2/3 of responders (69.1%) were not educated to recognize the signs and symptoms of VTE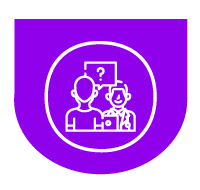 NO INSTRUCTIONS ABOUT CONSULTATION
• Among those who were educated about possible VTE manifestations, 29.2% were not provided with basic instructions for seeking support/clinical consultation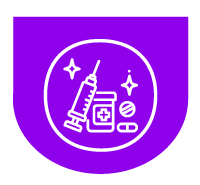 USE OF ANTICOAGULANTS
• Almost 1/4 participants (23.9%) had a history of VTE
• About 1/2 of the overall population reported anticoagulant use during their lifetime (49.7%)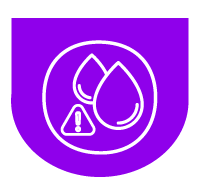 UNAWARE OF BLEEDING RISK
• <1/3 of the patients (30.9%) discussed about primary thromboprophylaxis with their physicians
• Majority (58.6%) of responders were unaware of the potential risk for bleeding complications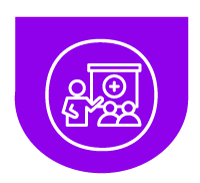 CAT EDUCATION
• Valued as absolutely essential/very important by vast majority (85%)
• >1/2 of them (51.7%) believed that the time spent by their healthcare providers in CAT education was insufficient
These preliminary findings warrant urgent interventions to improve education and awareness and reduce CAT burden.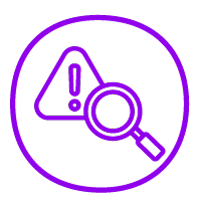 CAT might be underestimated, leading to limited efforts or effectiveness when informing and educating patients about CAT.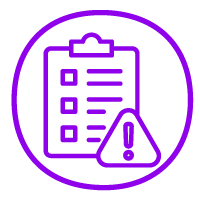 Data on CAT education and awareness among the general cancer population is limited.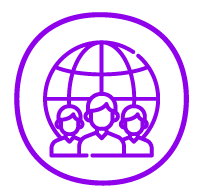 This first global CAT survey was launched to:
Provide information on CAT education and awareness among a large, comprehensive, multiethnic, and multicultural population of individuals with cancer
Explore the contents, sources, and timing of CAT education, and its psychological impact
Estimate patients' knowledge and perceptions about anticoagulation in CAT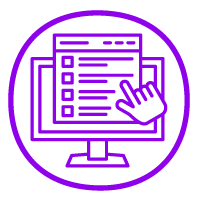 An online survey was launched on June 10, 2022 (active thereafter for about 6 months), comprising of 27 items dealing with common aspects of CAT.
The survey was translated in 14 languages, and promoted and disseminated online through social networks, email newsletters, websites, and media.
Preliminary data from the survey as of September 20, 2022 was presented.
Overall, 749 participants completed the survey.
33.8% university
graduates
EDUCATION RECEIVED ABOUT CAT, SOURCES, AND TIMING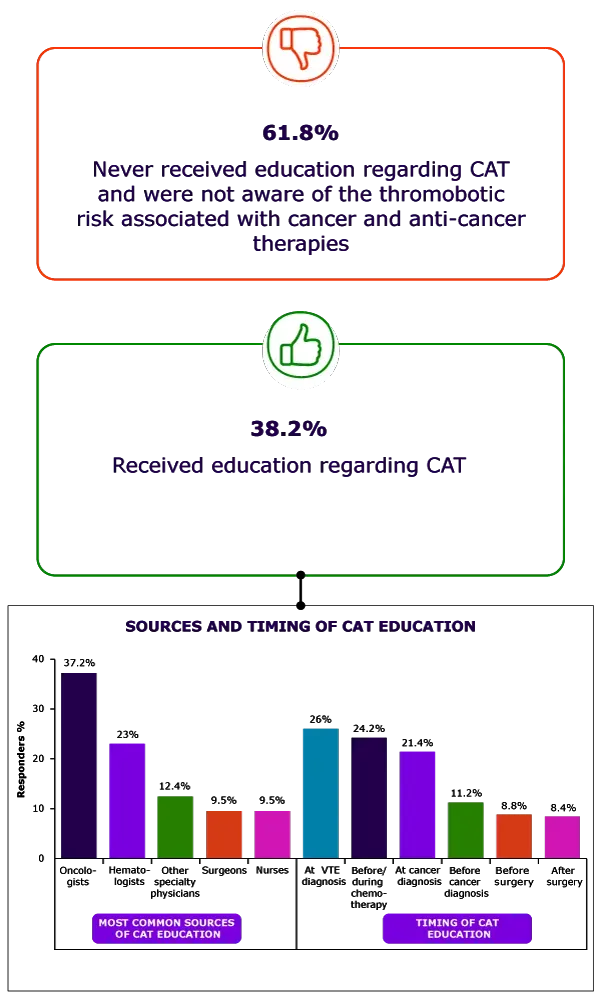 The understanding of CAT was rated as 'insufficient' (≤5 on a 1−10 scale) by 30.4% of responders who received CAT education (median: 7; IQR: 5−9). KNOWLEDGE OF CLINICAL MANIFESTATIONS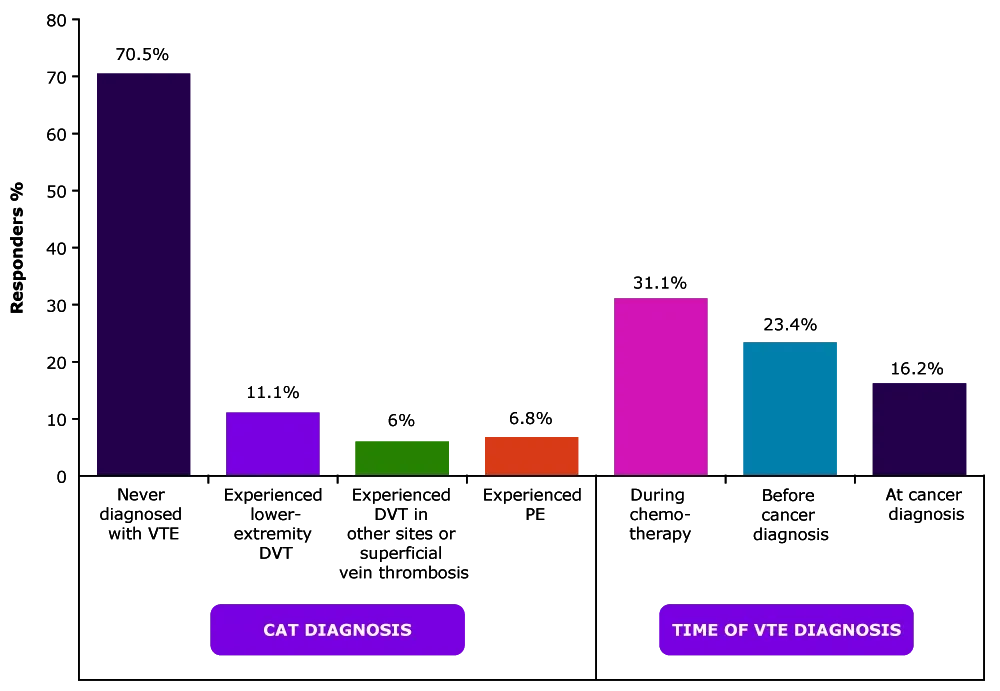 USE OF ANTICOAGULANTS AND REASSESSMENT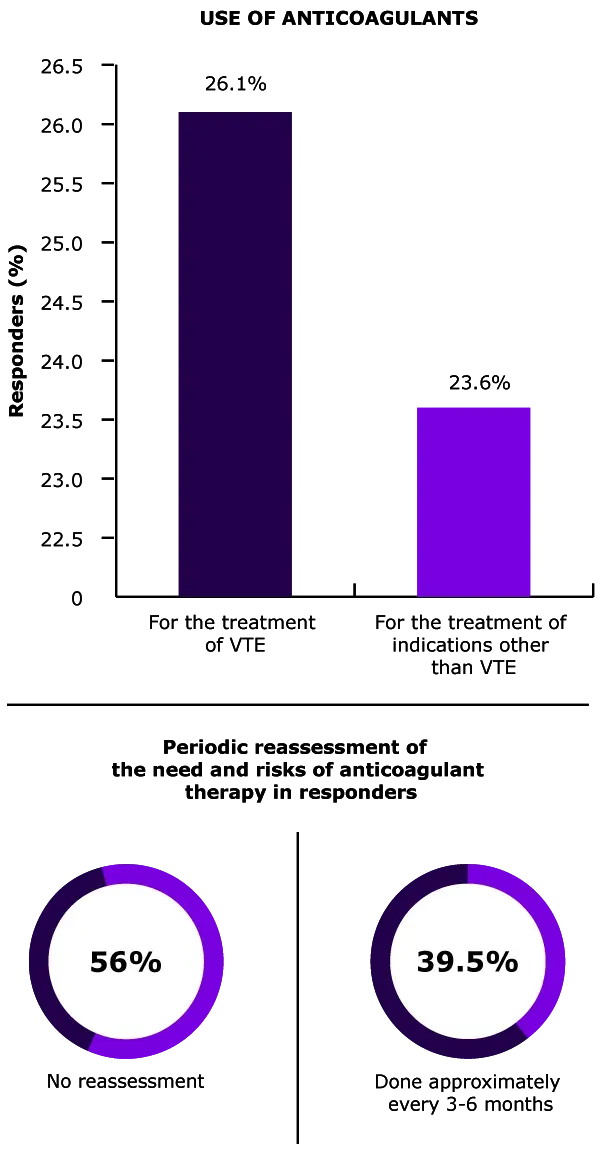 For further information on patients' discussion with treating physicians on thromboprophylaxis and their experience with CAT education, click on the hyperlink.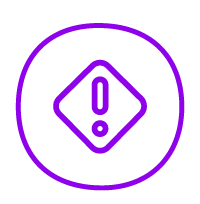 Survey findings might not be fully representative of the general cancer population, and responders could have been potentially subject to recall bias.
Browser-based nature of the survey might have underrepresented subjects with limited access or familiarity with digital platforms and devices.
Disclaimer: This content is not intended to supersede or replace any local/country specific guidance or regulation around cancer-associated thrombosis that would be in place at the time of content generation
ABBREVIATIONS:
CAT, cancer associated thrombosis; DVT, deep vein thrombosis; IQR, interquartile range; PE, pulmonary embolism; VTE, venous thromboembolism.
Potere N, Barco S, Mahé I, Cesarman-Maus G, Angchaisuksiri P, Leader A, et al. Awareness of venous thromboembolism among patients with cancer: Preliminary findings from a global initiative for World Thrombosis Day. J Thromb Haemost. 2022;20(12):2964−2971. doi: 10.1111/jth.15902. PMID: 36201366.
MAT-IN-2302257-1.0-10/2023
Disclaimer: For the use of a registered medical practitioner or a hospital or a laboratory only.