Long-term clopidogrel monotherapy versus prolonged DAPT past 12 months after PCI in high-risk patients
This non-randomized observational study investigated the long-term outcomes of clopidogrel monotherapy group vs prolonged DAPT group in high-risk patients undergoing PCI after implantation of second-generation DES for stable angina or ACS.


Long-term risk of MACCE Comparable between clopidogrel monotherapy and prolonged DAPT groups



Components of MACCE No significant difference in all-cause death, MI, stent thrombosis, stroke between the groups



Bleeding events Major bleeding: Not significantly different between the groups Minor bleeding: More frequent with clopidogrel monotherapy



Subgroup analyses*
No significant difference
between the groups

Long-term clopidogrel monotherapy may be a potential option for prolonged DAPT as an antiplatelet treatment in high-risk patients after PCI.


Evidence for the effectiveness of clopidogrel monotherapy over prolonged DAPT in treating high-risk patients after PCI is sparse


Long-term outcomes of high-risk patients receiving clopidogrel monotherapy vs prolonged DAPT were evaluated

A non-randomized, observational study was conducted in Korean patients (Apr 2006–Dec 2010) undergoing PCI using second-generation DES.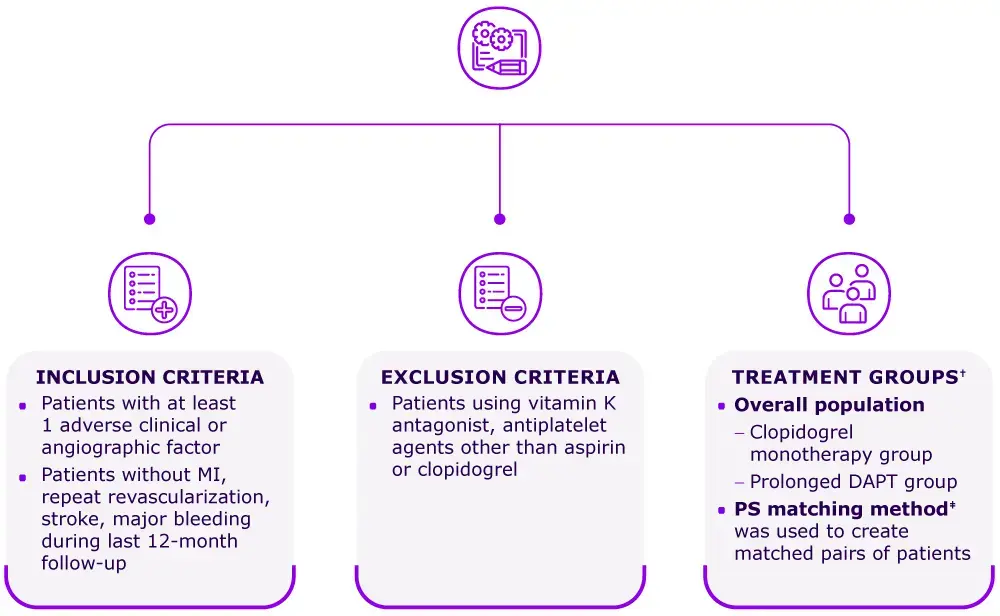 OUTCOMES OF INTEREST:
Primary outcome: MACCE¶
Secondary outcomes: Individual components of MACCE; TVR; TLR; Major bleeding; Composite of MACCE and major bleeding
Subgroup analyses*

Similar baseline characteristics in overall (except stent type, P = 0.001) and PS-matched population

Median DAPT duration (months) was significantly lower in clopidogrel monotherapy (14.7) compared to prolonged DAPT group (36.0) (P <0.0001)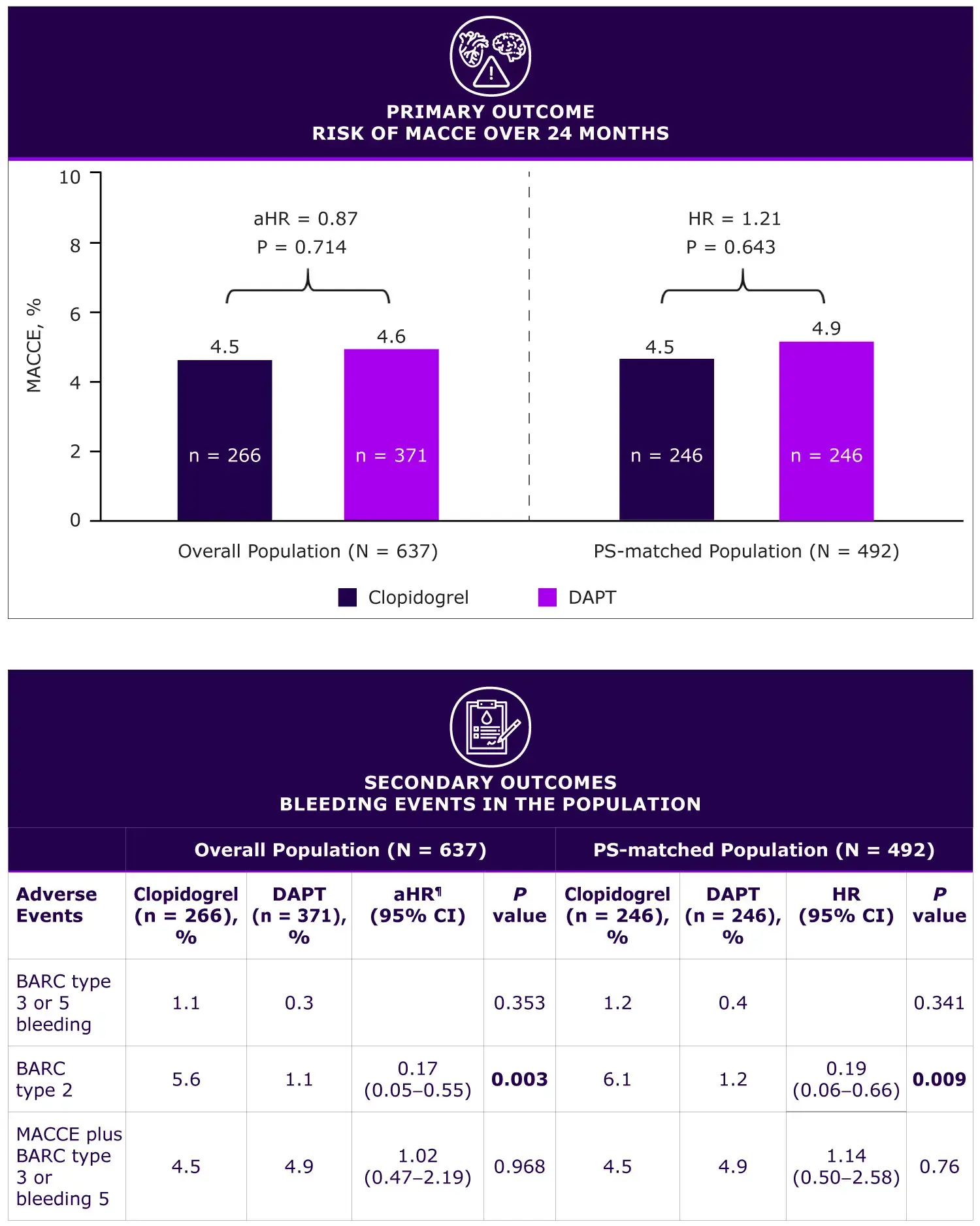 Please click on the hyperlink for information on additional secondary outcomes.
Subgroup analyses: Not significantly different between the groups

Non-randomized observational study design might have affected the results
Small sample size, clinical events rate was too low to guarantee the conclusion
Only clopidogrel usage for DAPT regimen as P2Y12 inhibitors#
Please refer to source publication Kim DY, et al. for additional details
* Subgroup (age, ACS, ST-segment elevation MI, diabetes, chronic kidney disease, total stent length 28 mm or longer, 2 or more target vessels, and types of DESs) analyses evaluated the treatment effects of prolonged DAPT and clopidogrel monotherapy on the primary end point
† Based on antiplatelet treatment
‡ To avoid treatment-selection bias for DAPT and potential confounding factors
§ A composite of all-cause death, non-fatal MI, definite or probable stent thrombosis, or stroke
¶ Adjusted for age, sex, acute coronary syndrome during index admission, hypertension, diabetes, current smoker, chronic kidney disease, dyslipidemia, previous PCI, left main or left anterior descending artery as treated vessel, multi-vessel PCI, complex PCI, total stent numbers, and total stent length
# Due to non-availability of other P2Y12 inhibitors such as ticagrelor or prasugrel in Korea during the trial period
ABBREVIATIONS:
ACS, acute coronary syndrome; aHR, adjusted HR; BARC, Bleeding Academic Research Consortium; CI, confidence interval; DAPT, dual antiplatelet therapy; DES, drug-eluting stent; HR, hazard ratio; MACCE, major adverse cardiac and cerebrovascular event; MI, myocardial infarction; PCI, percutaneous coronary intervention; PS, propensity score; TLR, target lesion revascularization; TVR, target vessel revascularization.
Disclaimer: The images depicted here are fictitious and meant for illustrative purpose only. Any resemblance to any person, living or dead is purely coincidental.
Kim DY, Cho SW, Park KT, Ahn JH, Park TK, Jang YH, et al. Long-term outcomes of clopidogrel monotherapy versus prolonged dual antiplatelet therapy beyond 12 months after percutaneous coronary intervention in high-risk patients. J Korean Med Sci. 2021;36(16):e106. doi: 10.3346/jkms.2021.36.e106. PMID: 33904262.
MAT-IN-2301061-1.0-07/2023