Digital Trends in Healthcare: A Foretaste of the New Era of Science through Telemedicine
The year 2020 saw the horrific consequences of an unprepared healthcare landscape. Fortunately, it also witnessed mankind's efforts to use everything at their disposal and rise to the occasion as warriors.
The most important trend witnessed recently was the use of Telemedicine.
>3,00,000
Teleconsultations in
a day by Ayushman
Bharat Health and
Wellness Centres1

Teleradiology
owns the largest
share2


iCliniq is the key
player in Indian
telehealth2

Telemedicine has proven to be beneficial in providing better healthcare solutions to HCPs and
patients in many ways.
Benefits of
Telemedicine3
The adoption of telehealth in routine practice allows HCPs and patients to be flexible.
Some of the common uses of telehealth are:
Ensures compliance with on-protocol treatment patients

Management of chronic conditions
Post-operative wound care

Group education consultations for prediabetes patients

Connecting patients to a specialist in remote areas

Routine follow-ups on mental health problems

Psychotherapy appointments

Emergency care for established patients with low-risk infections

Long-term patients who are out of town

Pre-orthopaedic surgery prep

Expand access to fast track clinical trials

In order to achieve best practices, here is a list of certian norms that can be followed.
Overall cost of telecommunication system
Practical training of medical professional
Prepare for confidentiality breach due to possibility of data leak
Better connectivity to avoid network issues
Better quality patient records (e.g. X-ray, lab reports, etc.)
Some of the important metrics to determine the success of incorporating telehealth
in practice include:
Goals Include Achieving Lower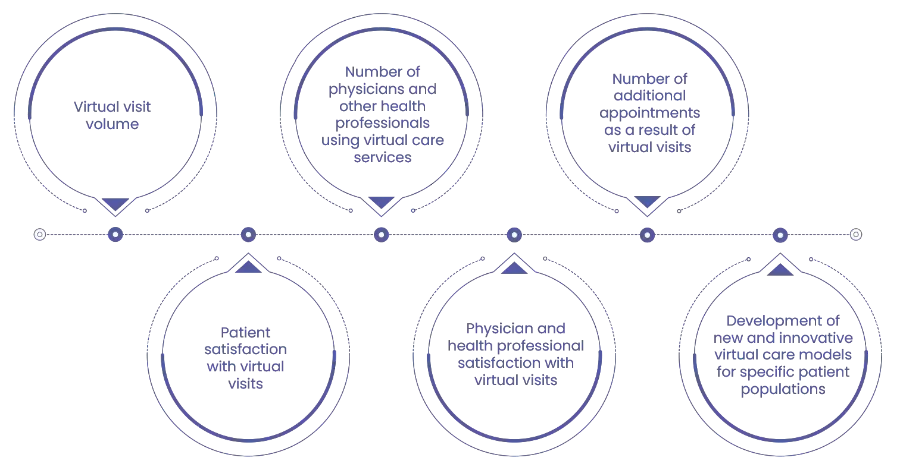 Post-COVID, telemedicine
use has significantly
increased with people above
the age of 45 being the
biggest beneficiaries7
According to AMA,
72% of physicians use
telehealth to deliver
reatment8
80%

of doctors conduct these
consults in clinic8

Telemedicine is drastically changing the healthcare landscape with the aid of digital innovations and technology.
Some of its key benefits include comfort, convenience and management of primary care, chronic care and infectious diseases.
Its adaptation into our routine practice requires the measurement of success parameters. Some of the goals include increasing patient satisfaction during virtual consultation, limiting the waiting time of the patient for consultation and focusing on practical training for HCPs and staff.